Like all companies, your notary office requires an online presence to develop more easily and make itself known. Being visible on Google is essential when you know that over 90% of Internet searches are done on this search engine.
The creating a website it has become mandatory for most companies and professionals. It's hard to do without a digital presence in an increasingly connected world.
However, notarial websites are subject to some specific rules dictated by the Order of Notaries. Here's how to respect them by creating an effective and relevant notary website.
Notary's office site: what interest?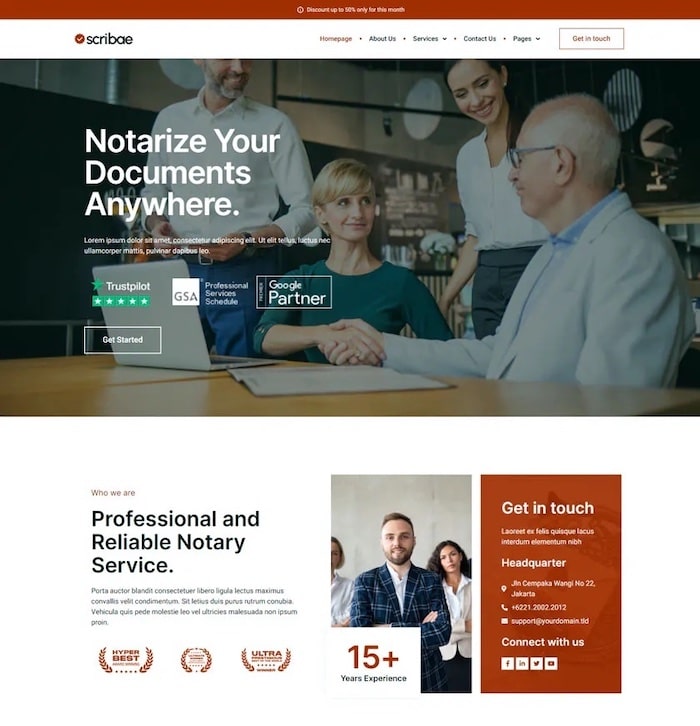 Nowadays, every company must have an online presence to have visibility, especially on Google, and be able to develop. Creating a website for your notary's office therefore allows you to make yourself visible on the internet and to spread your business.
If you are not authorized to advertise your office, you can still distribute the real estate advertisements for which you are responsible and the news of your profession to create a dialogue with your clients.
In fact, a large part of a notary's job consists in advising your clients: why not provide some information that will help the people you meet to get an idea of ​​the possible outcome of their problem?
Your notary website can then provide your clients with a contact form protected by an SSL certificate that allows you to communicate personal information in complete confidentiality.
However, the Order of Notaries prohibits you from disclosing personalized advice in writing via this contact form. This means that your customers will be able to make an appointment online but will not be able to discuss a situation that affects them with you.
If you feel you need a platform for exchanging words and documents with your clients, you will need to use a specific tool that guarantees exchanges and is directly linked to your notary's office website.
To set it up, you will need a web developer who is experienced in the industry and can give you the best advice.
What are the specificities of a website for a notary office?
Unlike most professions, the website of a notary firm is subject to compliance with an ethics charter established by the Order of Notaries.
The strict regulations that must be enforced require the use of a service provider who has some experience in this field, or at least the ability to have access to the resources necessary to provide quality and appropriate work.
First of all, the domain name of your firm is imposed and must take the following form: nameofnotary.initialfirstname.department.notaires.fr.
Put simply, you have to write your names in full, which can also be grouped under the mention nomd'unassocié-et-Associés-nom de la commune.notaires.fr if you are more professionals practicing within the same office.
Notaries have n no right to advertise for their notary office. This considerably reduces the possibilities of referencing and distribution of your site. However, with the relevant support of an experienced professional web developer, you can get adequate exposure for your site.
Your web developer will have to accompany you in choosing mention your affiliation with a notary network to improve the visibility of your studio and to present your office trying to get as close as possible to your potential customers. For this reason, presenting your team and posting the photos of your collaborators on the site can be interesting. Again, it is the storytelling technique that can help you develop your network and the impact of your notary's office.
According to the Order of Notaries, you have the authorization to publish news related to your business and your sector of intervention. This is great news and a valuable tool because the renewal of your website allows you to update its referencing and thus make it more visible on search engines. However, be careful with the information you choose to disseminate as it is your professional responsibility that comes into play in the event of a problem.
To put your notary's website online, you must obtain authorization from the Order of Notaries, who will send you an approval number.
To do this, the following information must be provided:
a temporary URL,
a definitive URL,
how to host your website
and the contact details of the web agency or freelancer who created your website.
Obtaining the approval number from the Order of Notaries is mandatory and it may be interesting to be accompanied in these steps for greater ease and peace of mind.
6 specialized service providers for the creation of a website for notaries
Finding the service provider you can trust is essential to getting a website that meets your expectations.
Here are some service providers who have some expertise and a good understanding of the regulations in force for notary office websites.
codeur.com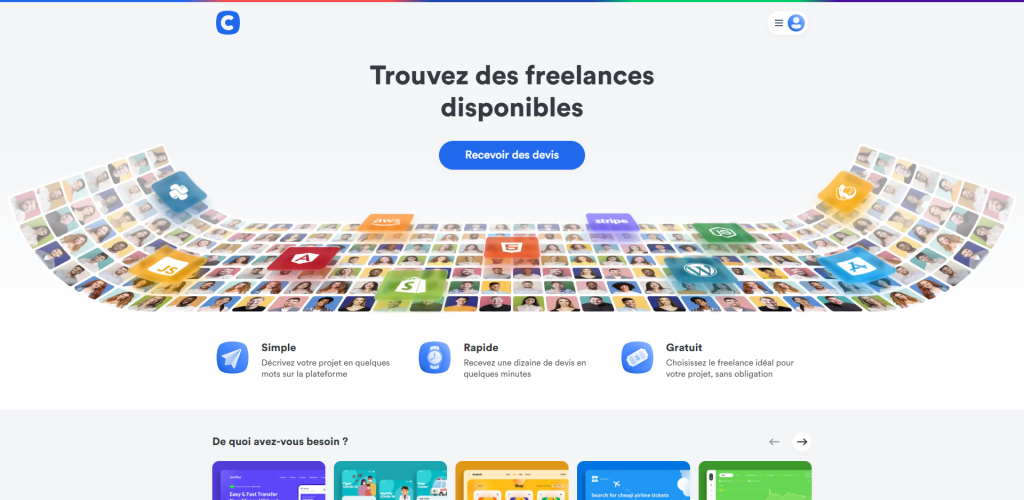 codeur.com is a free professional / freelance matchmaking platform. The principle is simple: submit a project for free by responding to a form accessible on the site, and your request is sent to freelance web developers ready to carry out your project.
They are the ones who then send you a precise quote indicating the required budget and the time needed to complete your project. It's up to you to choose by comparing the quotes, but also the profiles of freelancers.
You have access to the ratings given to web developers by previous clients, which allows you to get a pretty good idea of ​​the quality of work each one provides.
Codeur.com costs you nothing: sending a project and getting in touch with the freelancer are completely free.
Paid options are still offered by the site to highlight your project and get quotes faster, for example. This is a particularly cost-effective solution.
Agence-nota.com
Specialist in the creation of websites for notaries, Nota is familiar with the functioning of the regulations to which you are subject. You will get a powerful and responsive website that integrates the tools you really need.
Note also proposes to accompany you through the steps necessary to obtain your approval number, which is mandatory for the publication of your website. Prices are available upon request.
Romain-soulier.fr
This professional has experience and specialization in the creation of websites for notaries. It offers complete build and responsive, well-referenced site at a reasonable price, especially since you'll have access to training to effectively manage your website.
The average price is indicated at 1580 euros. The professional also offers technical support included in the price for two months.
Fiducial.fr
Fiducial is a well-known company in the office automation sector and also offers website creation services. It brings together professionals chosen for their specialized skills by sector of activity: you will therefore have the pleasure of collaborating with a web developer specialized in the creation of websites for notaries.
To get started, the company offers a free 30-minute meeting to discuss your needs and prepare a quote.
WebiPro.fr
Webipro also offers the use of web developers specialized in creating websites for notaries. The operation of the company is based on communication in order to be able to create a website as consistent as possible with your expectations.
You will also have access to a precise calendar that will allow you to know the deadlines for the creation of your website, as well as support in the process of obtaining your approval number.
Webgazelle.net
Webgazelle offers a monthly subscription formula for the creation of your website and hosting. For 99.90 euros per month on average, you get a site that is very well referenced and adapted to your needs.
But be careful, because the all-inclusive formula that provides for the referencing of your site and the drafting of the contents can cost up to 299.90 euros per month. It is therefore a rather expensive solution.
Pay attention to the prices sometimes charged by specialized platforms, remember to compare the price for creating your website.
Our advice for creating a notary website
Codeur.com is a free platform that connects freelancers with clients. Using Codeur.com also means having access to thousands of freelancers who specialize in other fields, such as graphic charters or storytelling content, who can help you create your notary website and help you produce appropriate and relevant content, according to the rules established by the 'Order of Notaries.
Do not hesitate to submit a project for free on Codeur.com and compare the quotes offered directly by the freelancers themselves.