What is the Erasmus program?
Erasmus + is a mobility program for young people in Europe and around the world.
The program offers students the opportunity to do a university exchange in a foreign country for a period of 3 months to 1 year. Erasmus is open to the 27 member states of the European Union but also to Iceland, Liechtenstein, NorwayIsrael, the Turkey as well as North Macedonia (since 2014) and Serbia.
This agreement between European countries and their universities was created to encourage student mobility and exchanges between institutions with the aim of learning a foreign language, sharing between different cultures and the experience of living in a new country. In order to promote this international exchange during studies or internships, numerous aids have been set up, in particular a scholarship for international aid it can be combined with French aid (Crous scholarship for example).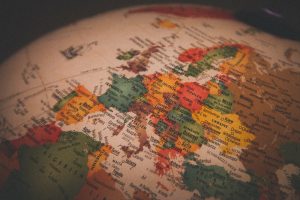 Established for 35 years now, more than 12 million students have already had the opportunity to benefit from this program, the most popular in Europe.
Erasmus is now called Erasmus + and brings together all international exchange programs. No longer reserved for academics, it allows all students, apprentices and job seekers to take advantage of a mobility experience in a foreign country in order to acquire new skills highlighted in the CV. This article highlights the need to know about ERASMUS health insurance.
Why should you take out health insurance?
Many risks and unforeseen events can occur in our daily life. We can get sick or have an accident. When traveling, especially when the stay is several months (an ERASMUS stay lasts at least 3 months), these risks are frequent.
In a foreign country, these privacy risks add to travel-specific risks, such as:
Geopolitical Risks:

attacks, acts of terrorism, instability at destination
Risks associated with land or air transport:

accident, cancellation, loss of baggage
Health Risks:

quality of care, level of equipment

Financial Risks:

private or rental liability or during an internship, loss of documents, etc.
To travel peacefully in ERASMUS it is therefore essential to prevent these risks and leave covered. Therefore, we will present the situations that could arise during an ERASMUS stay and the possible coverage solutions.
First of all, it is essential to understand how the coverage of medical expenses works during a stay abroad, because it is one of the traveler's priorities to understand how ERASMUS health insurance can be useful.

Medical expenses around the world
In France we benefit from a rather satisfactory welfare system:
Procedures have been simplified since then

between 60% and 80% of medical expenses

they are covered by the vital card according to the scales and reimbursement rates corresponding to each type of treatment

Furthermore, the

reciprocal complementary reimburses all or part of the care for which the social insured is responsible.
In this sense, we have comprehensive coverage accessible to all.
in TheEuropean Economic Area, medical benefits can be covered at the level of coverage of the French social security. However, reimbursements of these medical expenses remain partial.
the European EHIC health insurance card
This FREE card must be requested at least 3 weeks prior to departure from Health insurance fund and remains valid for a period of 2 years. It allows you to benefit from health coverage, regardless of the type of temporary stay (holidays, professional or linguistic stay, etc.) within these countries *.
The ERASMUS student must therefore provide the sum necessary to be able to anticipate medical expenses on site,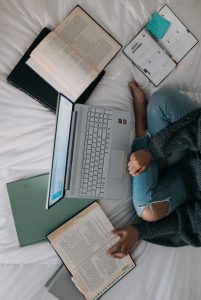 This card is an extension of social security abroad in this sense, alone apart from medical expenses are covered, and let's not forget that medical expenses abroad are often higher than in France.
In addition, reimbursement in France is made by post to Social Security and it takes between 15 days and 6 months to be reimbursed.
To qualify for this refund, you must complete the form CERFA 12267 the reimbursement amount is based on the base rate and the CPAM agreement, regardless of the country of study.
* Germany, Austria, Belgium, Bulgaria, Cyprus, Croatia, Denmark, Spain, Estonia, Finland, Greece, Hungary, Ireland, Iceland, Italy, Latvia, Liechtenstein, Lithuania, Luxembourg, Malta, Norway, Netherlands, Poland, Portugal, Slovak Republic, Czech Republic, Romania, Slovenia, Sweden and Switzerland.).
For example, a consultation with a family doctor registered in France costs € 25€. 70% is covered by the vital card, or € 17.50 and the balance by the mortgage.
In Germany, whatever the rate charged by the general practitioner, a maximum of € 17.5 will be reimbursed with the EHIC. The supplement remains the responsibility of the traveler, unless he or she has a supplementary health insurance that he undertakes to pay (which has to do with the complementary organization).
Finally, the EHIC does not give the right to reimbursement of the costs of assistance and repatriation in the country of origin. These costs would then remain the responsibility of the student and his family.
Credit card support, insufficient offers for ERASMUS students
The ERASMUS health insurance offered by bank cards includes insurance for stays of less than 90 dayswhich therefore turns out to be unsuitable for ERASMUS stays over 90 days In addition, the warranties remain limited:
€ 11,000 ceiling on classic cards (€ 155,000 for Gold cards).

Support in addition to social security and with a deductible of € 50 per file
Compared to the PLAN SANTÉ STUDIES travel insurance, the latter offers you the possibility of reimbursement starting from 1 Euro for 100% of the actual expenses, without limitation of sums and without excess.
Which contract to choose for comprehensive ERASMUS health insurance?
This contract is ideal as an ERASMUS health insurance. VSCreated to provide comprehensive and effective coverage for students under the age of forty who are following a course or internship abroad, this offer covers the needs but also prevents the risks of travel.
The main guarantees, main guarantees and exclusions of ERASMUS health insurance: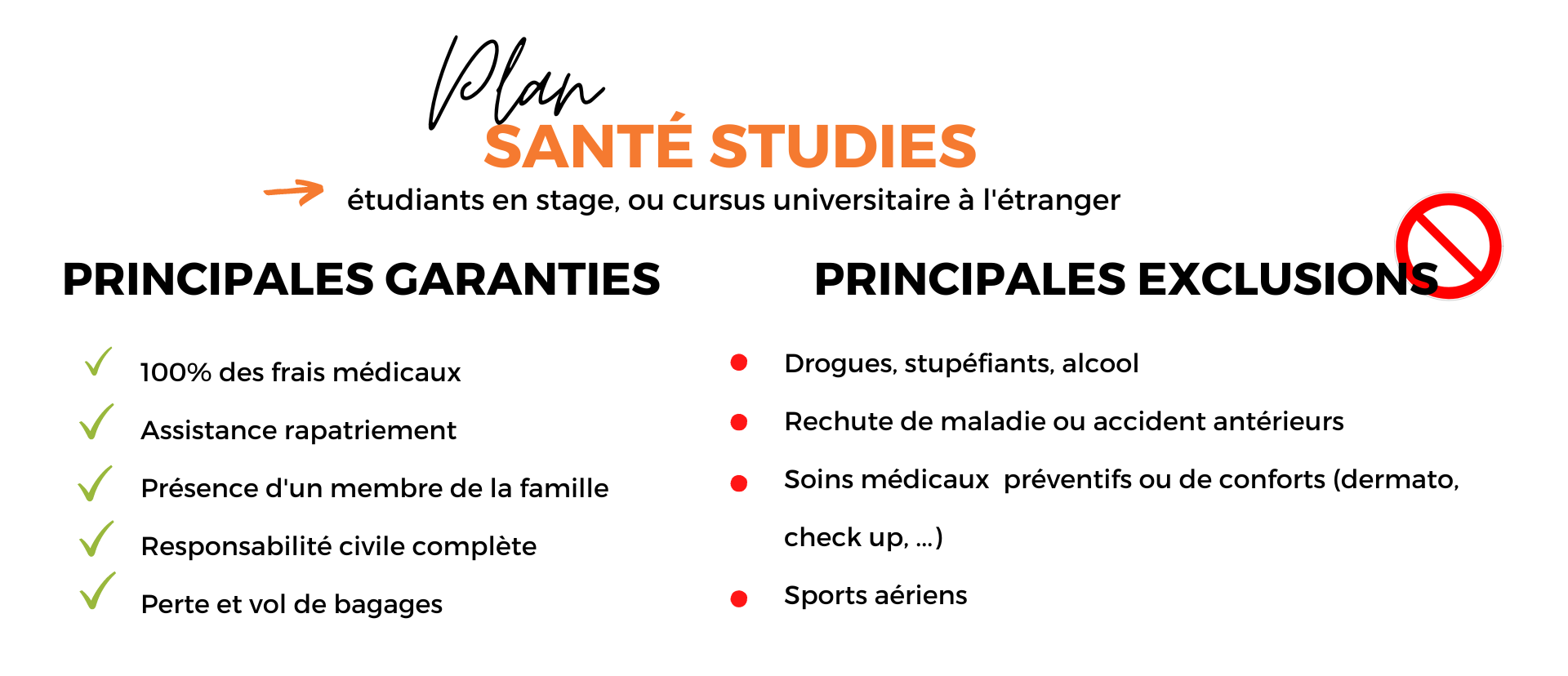 Medical expenses: this contract offers you complete and exclusive coverage with:
direct coverage of 100% of hospitalization costs without limits;

reimbursement of other medical expenses (doctor, medication, analysis) starting from 1 euro, without ceilings and without deductible;

Refund for emergency dental care limited to 300 euros and emergency optical care limited to 250 euros (deductible 50 euros).
Repatriation assistance: in the event of a request for repatriation, the insurance covers:
Medical repatriation by assistance centers;

In case of hospitalization of the insured:

Return ticket and accommodation costs for a relative;

In the event of hospitalization or death of a family member in France:

Return ticket.
Luggage: AVA offers you both to insure your luggage:
During the stay (in case of assault);

During their transport by an air transport company in the event of loss, theft or damage.
Public responsibility : the insurance covers:
Bodily and material injuries, private life and training;

Accidents such as fire and water damage when renting accommodation overseas.
AVA TECH + option:
This option is recommended if you wish insure your mobile devices abroad. For an ERASMUS student or trainee, a PC, mobile phone and other nomadic assets are necessary work tools in addition to ERASMUS health insurance. And AVA TECH + it covers you in case of damage (breakage) and theft abroad. This option must be taken out in France prior to departure and the list of insured devices must be sent to us at the time of subscription.
Little more :
Assistance is available to policyholders 7 days a week, 24 hours a day.
Exclusive AVA options with coverage for dangerous sports (SPORT +) and study interruption.
As soon as you subscribe to ERASMUS health insurance, you are issued a certificate confirming that you are well insured, even in the event of a COVID infection.
To leave peacefully for an initiatory, cultural and experience-rich journey, it is better to make sure you are well insured! It is essential to know the offers of the market and to understand the limits (guarantees and exclusions) of each contract.