Although chatbots are even more popular, all companies are trying to find out if using a conversation agent would be relevant on their website.
The demand arises in particular for e-merchants, for whom the experience offered to the customer on the site is more than decisive.
when creation of your online storethe question may arise as to whether or not to integrate a chatbot to help you with customer relationship management.
Chatbot: what exactly is it?
The term chatbot is made up of two words: "chat" (online conversation) and "bot" (half of the word robot). It is a computer program capable of interacting with people by simulating and processing a written or oral conversation with a human interlocutor.
The chatbot can be a rudimentary program set up to answer simple questions. But there are also much more sophisticated tools that are used as digital assistants. This type of program is able to scale and lends itself to ever higher levels of personalization through the information it collects and processes over time.
The chatbot is used everywhere on the web and provides help to internet users. For example, on Facebook Messenger, conversational chatbots are used by 3 billion people every month.
The ecommerce chatbot helps customers make better choices and get clear answers to their questions. When people are well informed, they feel safe and keep ordering from your online store.
What are the different types of chatbots?
Currently, chatbots are used in almost every business sector. It is an effective tool that is becoming essential in the digital world. Learn about the different types of chatbots that differ in utility and functions.
1. Basic chatbot models
There are two basic categories of chatbots, each with a specific purpose and mode of operation.
The text interaction chatbot
It works on the basis of commands, without the application of artificial intelligence. The questions are predefined and displayed according to a sequential logic, thanks to a predefined menu of options. This is the most basic type of chatbot that works well if you want to answer simple questions without the intervention of a consultant.
The text interaction chatbot allows you to provide concise information about a brand, answer questions about options or delivery times, inform customers about products or services, but also share a way of use, a recipe or even a user manual.
This is a non-exhaustive list because this chatbot category can answer all the standard questions to unlock customer service.
The chatbot with artificial intelligence
It is a tool with more advanced features that allows you to respond to more complex topics that generally require the intervention of a human consultant.
They have the ability to understand questions and give specific answers. Also called cognitive robots, these chatbot models can learn from past interactions to improve and provide more accurate answers.
2. Chatbot models based on user needs
Some chatbots are configured to meet specific needs in order to enable a company to meet the needs of a specific customer base for a well-defined industry. These are the following chatbots:
The customer interaction chatbot for immediate responses
This is an interesting tool that allows you to immediately answer questions from your potential customers to increase their confidence and help them find the products or services they are looking for.
Internet users no longer have to wait for answers to their questions. Using this type of chatbot allows you to increase service, increase sales and build customer loyalty. This is a e-commerce chatbot efficient that guarantees visitor satisfaction.
The customer support chatbot
This is ideal for the world of fashion, cosmetics, travel and online sales e-commerce chatbot Effectively answers customer questions.
When the customer finds the product they are looking for and the items they might be interested in, the chances of them buying them increase.
Therefore, this tool will increase the sales of your online store. Thanks to artificial intelligence, the chatbot can present a personalized response to each customer. The robot database is enriched with questions.
The conversational chatbot for your marketing operations
Conversational chatbot can be used for your marketing campaign: sending and replying to emails from your potential customers.
The ads that you send automatically thanks to this type of tool will help you to attract Internet users so that they want to consult your web pages. You can use other channels like social media to reach targeted consumers.
Effective in increasing your online sales, this type of ecommerce chatbot will help you reach your sales goals faster.
3. Social media chatbot
The evolution of information and communication technologies (ICT) increases the importance of the interactions of companies with their customers on social networks. Using a suitable chatbot allows you to answer questions from your subscribers on Messenger, Instagram, Whatsapp, etc. faster.
This tool helps the customer when they encounter a problem with a product or when they need information. Speed ​​of response is always appreciated.
4. Internal chatbots
These are robots that are meant to respond to your employees within your company. These tools also help you improve your company's image with potential candidates when there are openings or for new hires that need to get used to the work environment.
What added value does a chatbot bring to a site? e-commerce?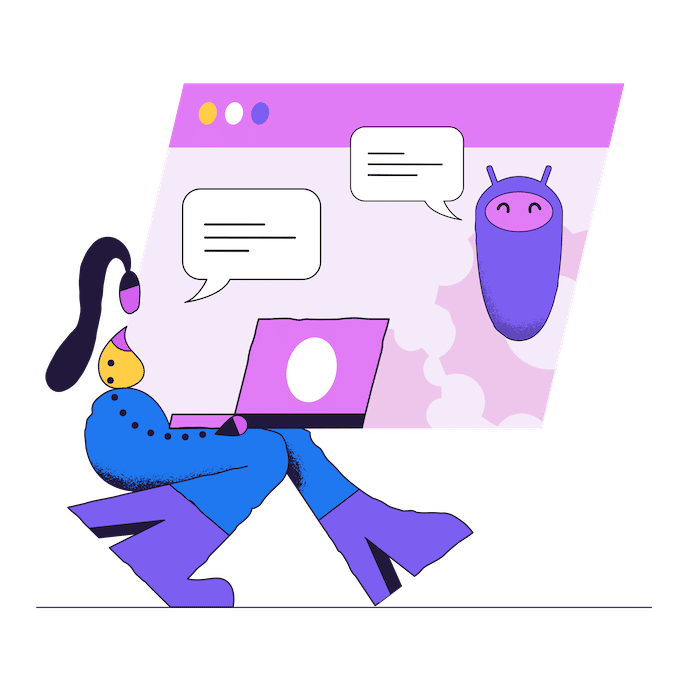 Using e-commerce chatbots has many benefits: it fosters interactions with customers, allows you to automate certain tasks and facilitate reminders. It also helps you to strengthen your marketing efforts, but also to improve and automate customer service.
When people ask questions online, answers are faster with an ecommerce chatbot. Whatever the day and time, they receive a concise answer and can decide more quickly to buy the products that interest them.
Sales are therefore enhanced and payment systems can also be integrated directly with chatbots.
be Using an e-commerce chatbot helps you increase customer engagement and answer a high volume of questions without ever worrying about the consultant being stressed out. The chatbot can work 24 hours a day and allows your employees to focus on other more important activities.
Chatbot support throughout the customer journey
Many studies look into the potential of chatbots for merchant sites. Let's try to figure out how a chatbot can serve your ecommerce site at every stage of the customer journey.
Arrival on site
When your prospect hits one of your landing pages, the chatbot can be doubly useful:
Can send a welcome message to the visitor to introduce the conversation;
It can direct you to a specific page based on your request.
This can have a beneficial impact on the bounce rate: Internet users who arrive at a new site sometimes feel a little lost, which can prompt them to leave immediately. By welcoming and guiding them, you limit this risk.
Read also : How much does it cost to create a chatbot?
Product search
As an e-merchant, you should be familiar with the concept of cart abandonment. If it is possible re-launch customers who leave the site before payingthe ideal still remains to take precautions to reduce the phenomenon.
And a chatbot can help you:
First, by providing product suggestions based on customer needs;
But also by promoting certain products or offering coupons to get conversions.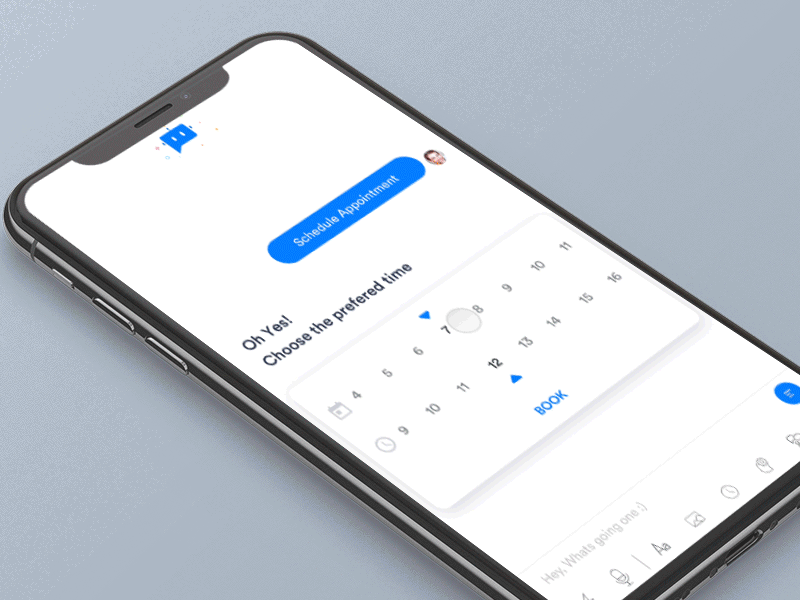 Seeking opinions and advice
Once a product has captured the customer's attention, it is likely that they will seek out additional information to support their choice.
Again, the chatbot is in the game:
He knows how to answer by himself, in a standardized way, the simple questions that the visitor can ask;
It can redirect the customer to a competent person (account manager) in case of a more complex request.
Now the way is clear for your customer to make a purchase.
After the purchase
Once your payment is confirmed, your work is not done: get feedback from your customers it is very important, not only to improve yourself, but also to be able to display positive reviews about your products – online shoppers rely heavily on it.
The chatbot can accurately offer buyers suggestions, comments, or even complaints.
Read also : E-commerce: how to create a product sheet that converts?
The added value of a chatbot for an e-commerce site
While a conversational agent will never replace a real relationship with a human, the chatbot has some benefits that can significantly improve customer service.
First, the robot can interact with many visitors, 24 hours a day. Available at all times, unlike humans, you will be able to help all visitors to your website, regardless of their number and regardless of the time zone of the country they come from.
Its second advantage is that it can ask qualifying questions to identify the most serious prospects and generate leads.
Finally, follow up on targeted prospects who are more likely to be transformed.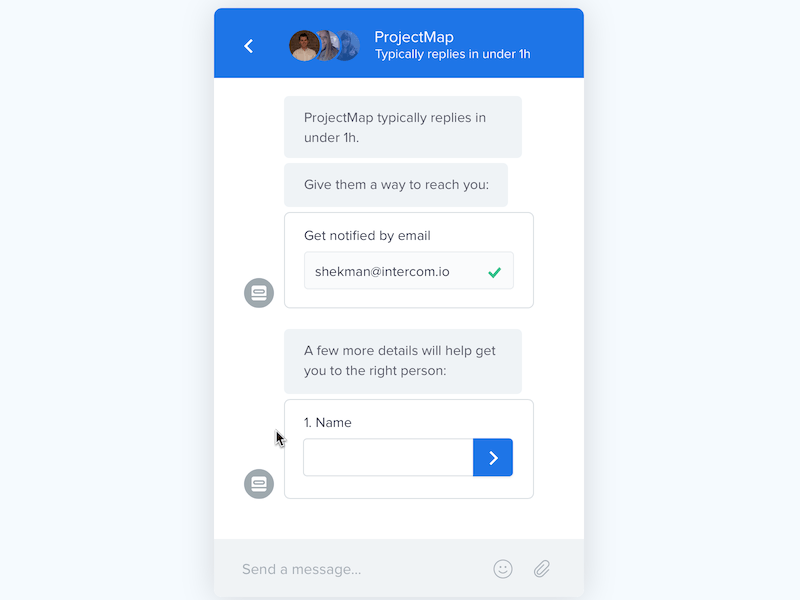 Read also : Inspiration: 10 chatbots with an original use
Chatbots have a future
In today's environment, e-commerce has become highly competitive. Differentiate yourself from the competition by implementing a chatbot.
Of there are many tools to create your chatbotlike it :
85% of customer-brand interactions will involve chatbot use in 2022.
As an e-merchant it is essential to keep up to date with your competitors, also to start thinking about tomorrow!
At this stage, studies show that more and more e-merchants are creating an e-commerce chatbot. In fact, as of today, 4 out of 5 companies would already use a chatbot on their e-commerce site!
What are you waiting for to set up yours?

Read also : How to humanize your site's chatbot?
Our advice
Do you want to create your own chatbot? Find a freelance developer on Codeur.com and offer your business a smart and personalized chatbot.
To do this, send your project for free and in a few clicks on codeur.com and quickly receive numerous quotes from professional freelance service providers.