Many travelers ask themselves the following question when planning their next vacation; "Do I need to take out travel insurance when I have a credit card"?
As a consulting broker, we list the main needs you may have as you compare your options and main steps before you take out health insurance with a specialist broker or not:
Check with your bank the level of guarantees included in your credit card
Compare the guarantees on your credit card insurance to those of your annual travel insurance
Discuss the specifics of your trip and contractual exclusions with a consultant
Know the compensation procedures in the event of a claim
1. Assistance and insurance guarantees included in bank cards
Credit card insurance is not equivalent. They vary according to the type (VISA, MASTERCARD and AMEX) and the coverage levels (BASIC, GOLD / PREMIER and BLACK / INFINITE). There are also numerous banks (institutional or online), which further multiply the travel insurance contracts offered.
We can still distinguish the "basic" cards from the "privilege" cards because the guarantees of the former are very limited.
The holder of a "basic" card. it only has assistance guarantees with reimbursement of medical expenses abroad up to 11,000 euros. This cap is largely insufficient to cover hospital care in many countries around the world, particularly in North America, Hong Kong and Australia.
Furthermore, the coverage is provided only in addition to the compulsory social security scheme and with the application of a deductible of 50 euros and there are no specific assistance guarantees for a trip (loss or theft of baggage, civil liability, flight cancellation, etc.) included in this type of paper.
We recommend that holders of preferred credit card insurance contact their bank to obtain the details of the guarantees in order to compare them with those of a travel insurance contract.
Please also note that insurance guarantees are granted to the cardholder only if he pays with it (checks or bank transfers cannot be made).
2. Compare the guarantees on your credit card to those of an annual travel insurance
For this article we offer you a summary of the main differences between the guarantees of travel insurance ADVANTAGES 360 from AVA and VISA PREMIER credit card insurance from CIC: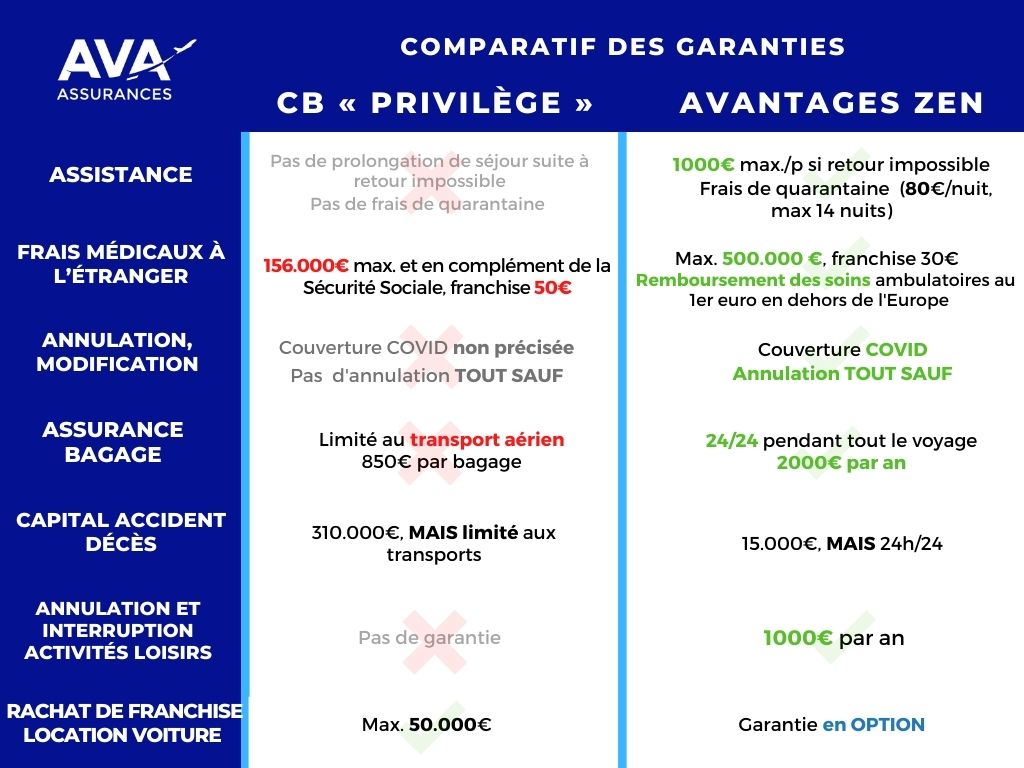 While very correct, credit card insurance guarantees have some weaknesses:
Insufficient ceiling for medical expenses (€ 156,000) for many destinations (USA, Canada, Australia, Japan, Singapore, Hong Kong, …) where medical treatment is excessively expensive. On the other hand, coverage in addition to social security extends the time taken to cover costs;
Lack of accuracy on COVID coverage in case of cancellation of the trip before departure and eventual quarantine on the spot, the Insured must contact the bank to obtain written confirmation of their coverage;
Uncertainty about obtain a COVID certificate required by some destinations
3. Exchange with a specialized consultant
Each trip is different with specific characteristics for each traveler. It is therefore important to be able to dialogue with a specialized consultant who can study and respond to your specific requests.
The ideal is to always have access to the pre-contractual documentation (Notice, General Conditions, etc.) to read it and ask all the questions necessary for a good understanding of the guarantees and exclusions of the contract.
The contractual documentation, in particular theCOVID insurance certificate required to enter approximately 40 countriesmust be available immediately after subscription.
4. Fast refund process
The quality of the insurance is assessed in the event of a claim. It is therefore important to be able to:
Easily report and track a claim via a web interface;
Being able to trade with a management broker;
Get a quick refund without having to fill out a lot of forms.

Conclusion
Although credit card insurance (GOLD or PREMIER) is relatively comprehensive, the level of coverage for overseas assistance in a specialized travel insurance policy and the need for simplified management (information, subscription and compensation) with a single manager strengthens the interest in subscribing to the annual travel insurance formula ADVANTAGES 360.